GW4 MICRO-TIMS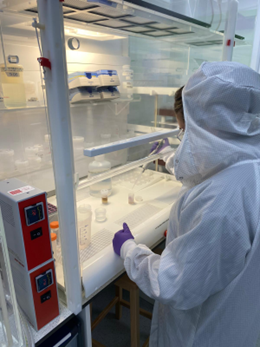 ---
Project overview
We plan to capitalise on an exciting new technology (Micro-TIMS mass spectrometry), and use it to create scientific breakthroughs across a range of disciplines within GW4.
Community lead
University of Bath: Barbara Kasprzyk-Hordern
University of Bristol: Daniela Schmidt
Cardiff University: Caroline Lear (PI), Sophie Slater-Lewis, Ed Inglis, Marc-Alban Millet, Morten Andersen
University of Exeter: Clemens Ullmann
---
Background
We will create a GW4 Isotope Microanalysis Community, focussed on a  Micro-TIMS mass spectrometer, to be installed at Cardiff University in 2023. This instrument provides the opportunity to analyse exceptionally small samples, revealing environmental variability usually hidden by averaging, enabling countless new research opportunities in geology, biology, archaeology, medicine, chemistry, and environmental science. During the initial phase of our community building efforts, we will host three workshops on specific themes that this new technology can help to address. The first centres on weathering and pollution, including the potential for enhanced weathering to sequester carbon dioxide. The second centres on research themes surrounding the formation, and sustainable extraction of critical metals needed for the transition to the green economy, and the third centres on the response of ecosystems to environmental change, including marine organisms in a warming ocean.   
Project Summary
We will (1) showcase the capabilities of this new instrumentation in GW4 workshops, (2) create and support a GW4 Isotope Microanalysis Community, (3) generate pilot data for specific collaborative grant applications. We aim to create new collaborations across GW4 and with external partner organisations, with the ultimate goal of achieving scientific breakthroughs in a range of disciplines helping to create a more sustainable world for future generations.