European Researchers' Night: FUTURES
September 28, 2018
The European Researchers' Nights have been organised every September since 2005. They showcase what researchers really do for society in interactive and engaging ways, promoting research careers to young people and their parents.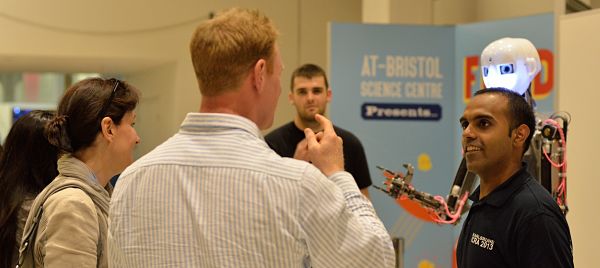 Together with the University of Bath and Bath Spa University, the University of Bristol is hosting FUTURES, a European Researchers' Night. Held on Friday 28th September 2018, events will showcase the varied and cutting-edge research taking place at the University. Researchers, technicians and postgraduate students from all faculties across the GW4 Alliance are encouraged to attend and share their research.
There are lots of ways to get involved, including: running a stand at the research fair, telling a story about your research, collaborating with a local artist on an art exhibition, having a cup of tea and a chat with older people about your research, discussing your research with library users, engaging the community at Barton Hill Settlement and more!
Activity spotlight: As part of FUTURES, the University of Bristol is collaborating with the acclaimed storyteller Clare Murphy, who is providing two-day training courses in storytelling and presentation skills (31 July/1 August and 3/4 August). Clare will support researchers to discover the story in your research, ways of telling it to suit your audience and how to be a confident presenter. Places are very limited so get in touch ASAP to secure a place.
For more information and to sign up to any of the activities visit:
University of Bristol FUTURES webpage
University of Bath FUTURES webpage