Back to events
GW4 ECR SYMPOSIUM – Multidisciplinary Approaches to AMR: Pandemics, Practices and Innovation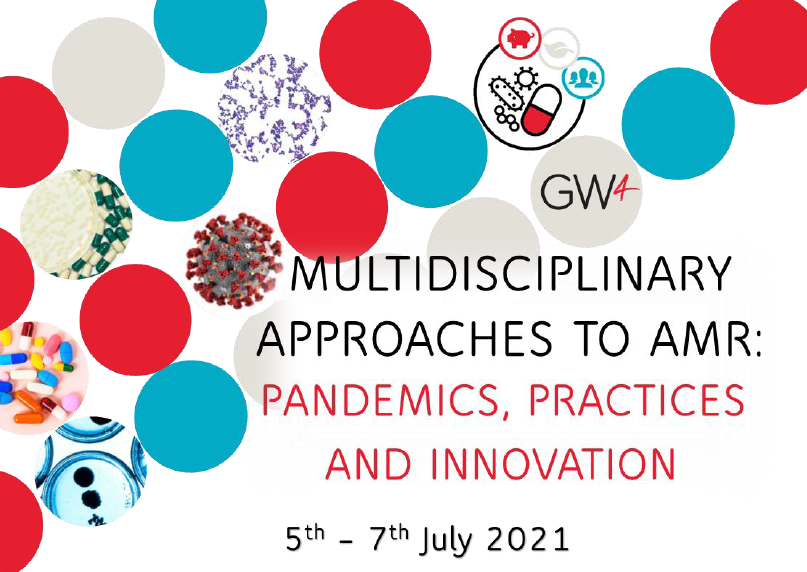 Hosted by early career researchers from the GW4 Alliance this year's GW4 AMR Symposium 'Multidisciplinary Approaches to AMR: Pandemics, Practices and Innovation' will take place from Monday 5th - Wednesday 7th July 2021.
The three-day event is designed to facilitate networking between researchers working across different disciplines with an interest in antimicrobial resistance (AMR). It will create a space for discussion and knowledge exchange about the different realities and challenges of AMR.  We will also reflect on how the COVID-19 pandemic has catalysed changes to research, society and public health policy and how these may influence the future of AMR.
The symposium will address the following broad themes:
AMR and global health
Practices and context
Molecular innovations
Mechanisms of AMR
AMR and the environment
Lessons learned from COVID-19
The symposium will comprise of online webinars from invited speakers and selected abstracts, as well as panel discussions, an interactive online poster session and networking sessions in small groups.
Keynote speakers
We are delighted to confirm participation from the following keynote speakers:
Dr. Nithima Sumpradit, Senior Pharmacist, Head of Research and Development Unit, Medicines Regulation Division, Food and Drug Administration, Ministry of Public Health, Thailand
Prof. Clare Chandler, Professor in Medical Anthropology, Director of the Antimicrobial Resistance Centre, London School of Hygiene & Tropical Medicine (LSHTM)
Prof. Gerard Wright, Professor in Biochemistry and Biomedical Studies, Director of the Michael G. DeGroote Institute for Infectious Disease Research, McMaster University
Prof. Andrew Singer, Senior Scientist, Principal Investigator of the AMR in the Environment Project, UK Centre for Ecology & Hydrology (CEH)
Prof. Alan McNally, Professor in Microbial Genomics, Director of the Institute of Microbiology and Infection, University of Birmingham
Registration & Abstract Submission
We welcome academics, researchers, industry professionals and students across different disciplines to join us.
Please register to attend the event via Eventbrite. The event will take place entirely online, and no registration fee is required.
Registration deadline: Monday 28th June
We are accepting abstracts from early career researchers for a poster or a short talk (10 minutes + 5 minutes Q&A). To submit your abstract please use this form.
We will get back to you about the outcome of participation by 6th June.
 Abstract Submission deadline: Tuesday 1st June 
For more information, visit our webpage and follow us on Twitter @GW4_AMR_2021.
If you have any queries, please contact amrsymposium2021@gw4.ac.uk.