Experience of GW4 Crucible: From Trepidation to Triumph
GW4 Crucible Alumni and Research Associate at Cardiff University, Timothy Pickles (image: far right), shares his experiences and insights of the GW4 Crucible 2019 Programme.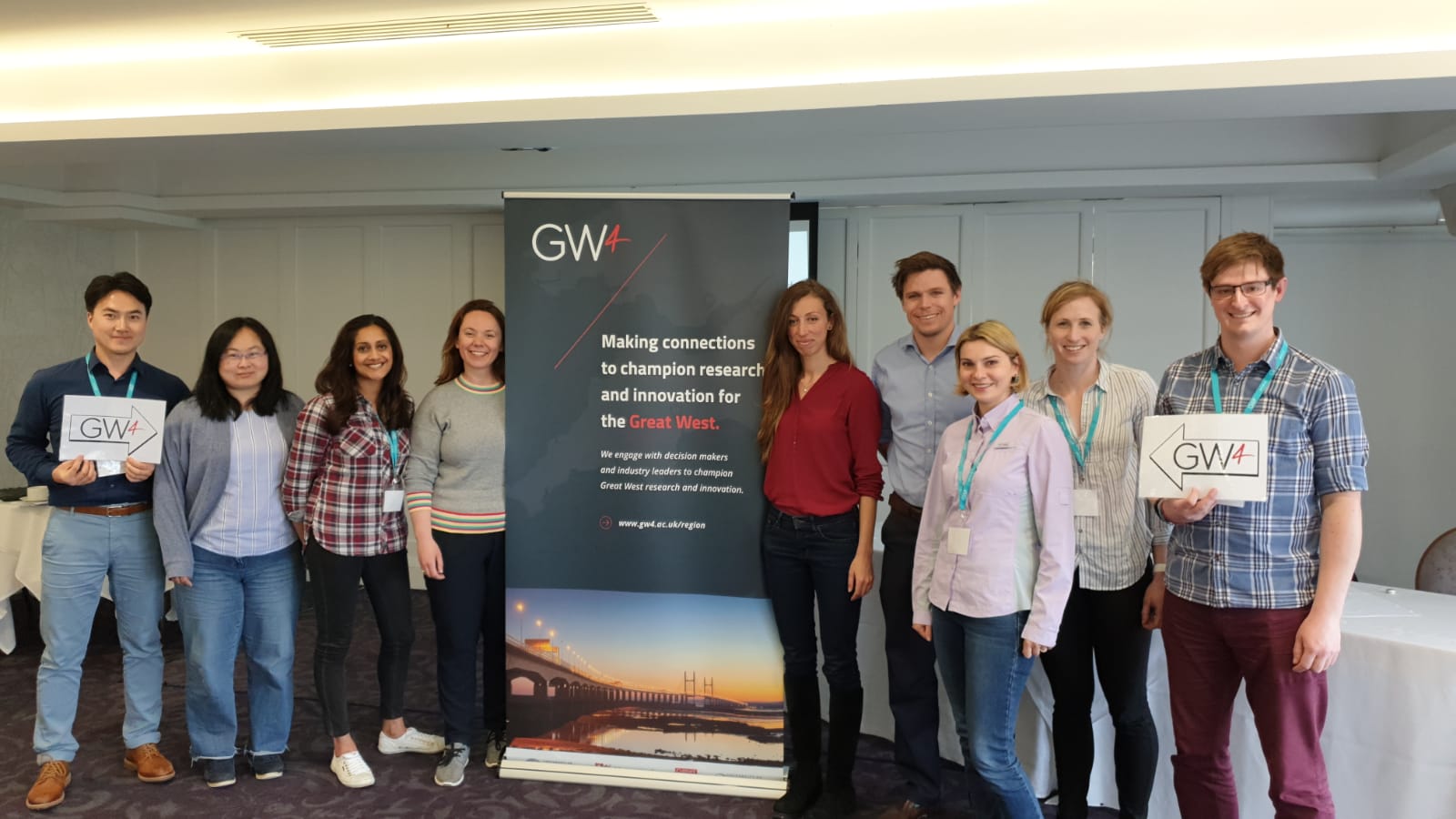 With nervousness and trepidation my standard state to anything new in work, I was about to find myself meeting a whole cohort of talented researchers who had already achieved so much in their careers. My application to the GW4 Crucible, with its theme specifically on Digital Innovation, was one of future hopefulness: based on an about-to-be-submitted NIHR Doctoral Fellowship application with a disease activity tracking app as its long-term outcome.
So, to Bath in February for Lab 1 and what turned out to be two days of the most extraordinary intensity: between discussing our research ideas in two minutes slots to having talks from some of the most high-flying names in research and funding, there was no rest! A word of warning for future cohorts – don't arrive thinking you will have time to check you emails or do extraneous work – you will regret trying. Such effort required that day to attempt to retain all the information throughout the day that our table at dinner all headed to bed at 8.30pm, though not before more conversations with academia-leading dinner guests. A similar pattern followed the next day with the wonderful Kate Tapper, our ever-present Crucible Director, keeping us on track with further talks and group activities. Our final task, in three groups, was to create the post-Lab-2-dinner entertainment.
After a month to absorb everything from Lab 1 and prepare the post-dinner entertainment, Lab 2 arrived in March and thus a trip to Cullompton near Exeter. This Lab had a very different feel, with the attention turning towards beginning the collaborations between members of the cohort. Time was spent with former Crucible members who were successful in winning seed funding from the 2018 Crucible and implementing their projects. As this Lab progressed, themes were proposed for potential collaborations and members clustered to those of interest. I was lucky that medicine and health was a relevant theme for many of the cohort, but it was not the case that everyone gravitated towards the eventual themes of interest, and collaborating groups varied in size. The post-dinner entertainment was welcome relief from the full-on nature of the two days. The other groups created a quiz on the GW4 institutions and cities and a structural building competition. Our group created slides containing facts on each cohort members for the other groups to guess who it referred to. (Surely the best of the three!).
With our collaborative groups roughly settled, we finished in May with Lab 3 in Cardiff. For me, this was a more relaxed and focused Lab with our group of nine members from all GW4 Institutions discussing the details and ironing out the finer points of our proposal and beginning the application document. This Lab set aside quiet time for individual thinking and mindful walking around the stunning grounds of the New House Hotel, and an opportunity to get head shots taken, in order to aid self-promotion of ourselves and our research. As the Lab came to a close, our group confidently set out a plan to complete the funding application, which was due within a few weeks, and how and when we would meet.
Since that Lab, our group have met and emailed to ensure the funding application was finished and accurately described our proposal, which aims to survey the public on their perceptions of novel digital health technologies and what barriers there may be to uptake. We received news in late July that we were successful with our bid following a funding panel meeting and looking to get started in October. It worth noting here, that each proposal can request roughly £5000 over 6 months to cover consumables and travel for group meetings, but not salary costs.
Looking back on my GW4 Crucible experience, it was one of the best academic experiences I've ever been part of and may well hold that mantle for some time. The opportunity to meet colleagues from different institutions, and more importantly, from different spheres of research is a rare one, so to find myself collaborating and applying for funding with a group as a result was very pleasing. I know now that my that my nervousness and trepidation was entirely misplaced, and I hope to take future opportunities like these to advance my career. Indeed, I am pleased to say my NIHR Doctoral Fellowship application was successful and I know participating in the GW4 Crucible programme aided this achievement by increasing my confidence and providing new experiences.