EXPERIENCE OF GW4 CRUCIBLE: The magic of GW4 Crucible
"I'm Seána. I'm a microbiologist by training and I'm interested in infections"
One of the first things you do at GW4 Crucible is introduce yourself. You'll do this almost every day of every lab. Maybe even every session. It's important for the programme that all participants get to know each other well, and quickly. And that's part of the magic of GW4 Crucible. There is almost a summer-camp feeling. A diverse group of participants at similar career stages experience something together. It's fun, its busy, it's exhausting and it's a wonderful experience.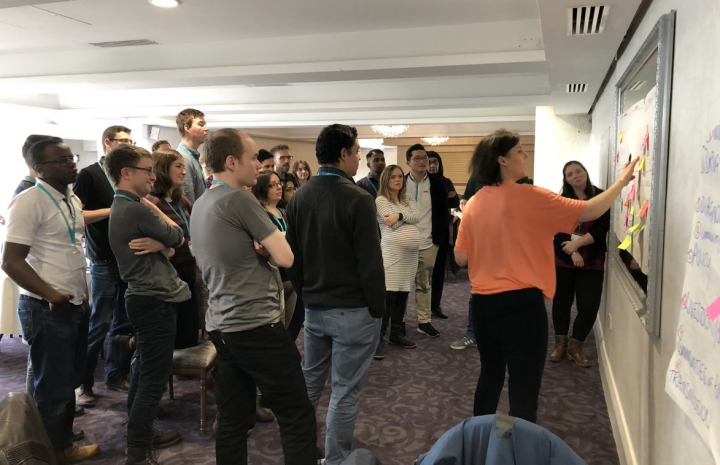 (Above Image: Crucible 2020: Lab 2)
I took part in GW4 Crucible 2020 focused on antimicrobial resistance (AMR). Going into Crucible I thought I was quite comfortable on AMR. I'd heard Jim O'Neill speak in Bristol a few months previous, and my own work could be described as AMR-adjacent. I thought about AMR on a molecular level; I thought about efflux pumps, enzymes and drug binding. In order to secure funding in my field, I thought it would be wise to know more about AMR. I thought a lot about how fungi are overlooked within the context of AMR. I still think a lot about how fungi are overlooked in the context of AMR. It is no exaggeration to state that every single minute of Crucible was valuable to my career, current work or personal development. I gained perspective during the labs that I would never have gotten close to by staying within my microbiology bubble. Prior to GW4 Crucible, I didn't know what clinicians needed from scientists and  companies to aid early diagnosis. I'd never given the benefit of the doubt to big pharma in their efforts. I'd never spoken to a person who battled a years' long AMR infection. I didn't know how geographers were involved in the fight against AMR. Or engineers. Or philosophers. To say crucible opened my eyes to the breadth of AMR would be a gross underselling of what crucible has done for me. Through short and intensive exercises, we got to know each other, mapped-out the main issues in AMR as we saw them and tried to place ourselves within the solutions. From the outset there was a focus on collaborations and selling our interests to potential collaborators. The programme culminated in the opportunity to form collaborations and apply for seedcorn funding.
I would be remiss not to mention being heavily pregnant for the first two labs and caring for a newborn during the third. Any concerns I might have had about taking part in the GW4 Crucible during this time in my life were unfounded. Comfort breaks and down-time were valued for allowing the sessions to percolate and conversations to gain momentum. Labs were intense- I won't pretend otherwise. But they could be as intense as the cohort needed them to be. 
While part of me feels that Covid-19 robbed the cohort of our last chance to meet in person, the third, virtual lab worked surprisingly well. GW4 Crucible opened doors that not even a pandemic could shut. Looking ahead, I'm sure myself, the other participants and the field of AMR will benefit from GW4 Crucible 2020 for years to come.