GW4 Diversity in Physics Conference
December 14, 2020
LGBTQ+ STEM Day is an annual global event held to raise awareness and highlight the barriers to inclusion and progression faced by the LGBTQIA+ community (i.e., people identifying as Lesbian, Gay, Bi, Trans/Trans+, Queer/Questioning, Intersex, Asexual/Ace/Agender or otherwise not cisgender and/or not straight), in science, technology, engineering, and maths (STEM).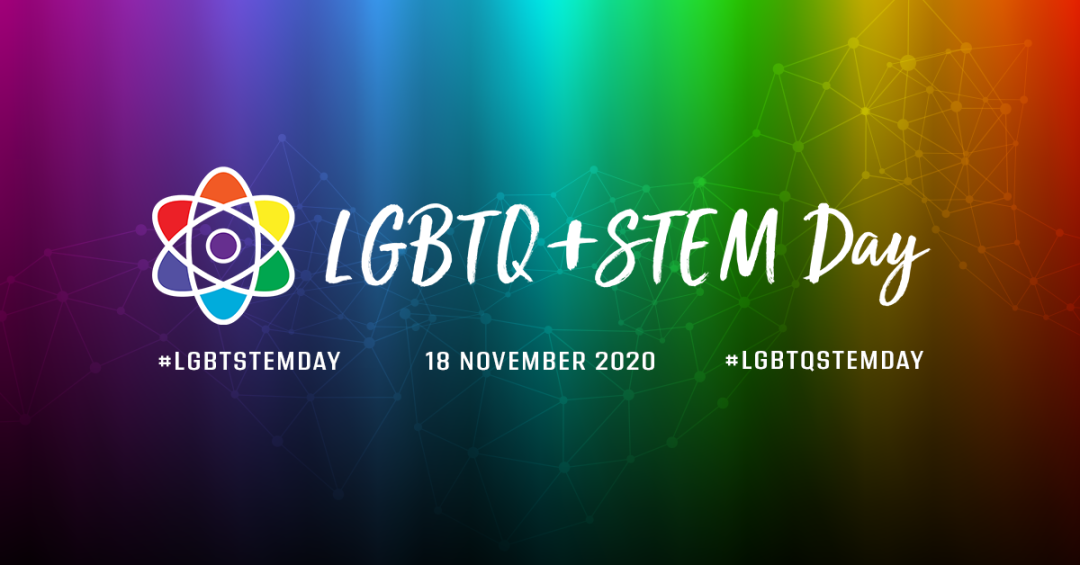 Across the GW4 Alliance, Physics and Astronomy departments marked this day by jointly hosting an online conference 'Diversity in Physics' on 18th November. The conference aimed to highlight and discuss some of the issues surrounding diversity within the physics academic community.
Led by the University of Cardiff with support from Bath, Bristol and Exeter, the conference was well attended, attracting nearly 100 people from across the UK. A video of the event is also available on the Cardiff University diversity blog with the slides from the speakers.
Wendy Sadler MBE, Senior lecturer at Cardiff University and founding director of Science Made Simple led the Diversity in Physics event and said: "It was fantastic to organise this conference with colleagues across GW4 and beyond to celebrate LGBTQ+ STEM Day. It was the first time we had held this event but are planning to ensure this becomes an annual event, with all the GW4 institutions taking turns to host."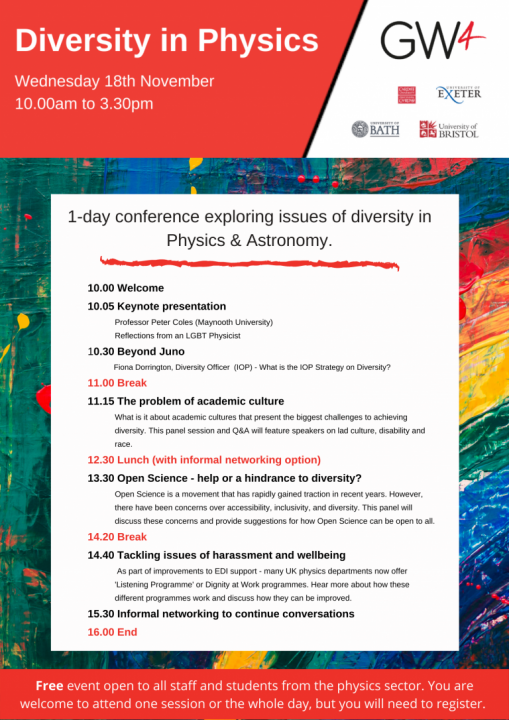 The event opened with a welcome introduction from Dr Jane Khawaja, Interim GW4 Director, followed by a keynote presentation from Professor Peter Coles, Head of Department of Theoretical Physics at Maynooth University, with his reflections on being a Gay physicist and the changing views within the LGBTQ+ community as well as shifting societal attitudes over the past few decades.
The programme (see image left) continued with talks from various speakers discussing academic culture and open-science; exploring the challenges these can pose to inclusivity and diversity. There was also the chance to hear about the Institute of Physics' latest member survey and their strategy for diversity beyond Project Juno, a scheme that recognises good practice in UK Physics Departments seeking gender equality.
Following the conference there was an opportunity for attendees to network and continue the discussions online. Informal feedback from attendees was positive with one attendee commenting that they found the conference very relevant to all areas of diversity: "The conference explored toxic academic culture and was applicable to tackling all areas of equality including race, disability, gender, and lad culture, moving beyond Project Juno."
PRISM Exeter also held an event as part of their 'PRISM Speakers' series to coincide with LGBTQ+ STEM Day. GW4 supported and promoted this event across the Alliance and externally, alongside the GW4 Diversity in Physics Conference.
Dr Jane Khawaja, Interim GW4 Director, said: "We were delighted to support both of these events and look forward to promoting future activities and events celebrating diversity and inclusion. The GW4 Alliance supports a positive research culture and provides many opportunities and initiatives, especially through our GW4 Talent and Skills programme, to help foster a supportive environment for all our colleagues engaged in research."
PRISM Exeter is a network for LGBTQ+ identifying individuals and their allies working and studying in Exeter's Science, Technology, Engineering, Mathematics and Medicine (STEMM) sector. Their Speakers series aims "to celebrate and champion the contributions of LGBTQ+ individuals to STEMM fields and to provide a platform for discussions regarding wider STEMM diversity and inclusion work." More information about the event – including recordings of both talks – is available on the PRISM Exeter website. Plus, read the full blog post 'LGBTQ+ Stem Day 2020' on the University of Exeter's Physics Inclusivity webpage, authored by the Physics Inclusion Group.