The GW4 Alliance, an alliance of four of the UK's most research-intensive and innovative universities: Bath, Bristol, Cardiff and Exeter, is to host the inaugural cross-alliance GW4 Open Research Week, taking place in November 2023.
The event, which is being co-delivered by the four universities and led by the University of Bristol for this year, will run from the 20th – 24th November 2023, and focus on the theme of the Theory of Change, showcasing a broad range of Open Research practices which make research more accessible, transparent, reproducible and visible.
Adopting Open Research practices improves research integrity, adds to the quality of research outputs through increased collaboration, and improves the public value of research by making it more easily accessible to all.
The week will consist of a mixture of online, hybrid and in-person events, which will span a diverse range of topics, covering the different stages of the theory of change, and will be open for members of GW4 Alliance universities to attend.
These topics will include:
Monday 20th November - Basic Environment: Make it Possible
Tuesday 21st November - Enabling Environment: Make it Easy
Wednesday 22nd November - Communities: Make it Normative
Thursday 23rd November - Incentives: Make it Work
Friday 24th November - Policy: Make it Required
A number of events will also be open to everyone, including those based at institutions outside of the GW4 Alliance, international audience groups, and members of the public with an interest in reproducibility, transparency and integrity in research.
Please note that, in addition to GW4-wide and open-to-all events, each university will also be running its own series of events which will only be available for members of the host institution to attend.
Full event details, including information on which events will be open to all, are listed on the GW4 Open Research Week events pages. Some sessions will also be recorded and made available to watch back online.
The GW4 Alliance sits at the forefront in research standards, and Open Research Week forms part of the Alliance's commitment to ensuring that its researchers adopt best practice when undertaking research.
Professor Phil Taylor, Pro Vice-Chancellor for Research and Enterprise at the University of Bristol, said: "This year's Open Research Week, developed with the support of experts from across all four GW4 Alliance institutions, features some brilliant events and activities which will help to bring to life the importance of Open Research, spread knowledge, and shed light on existing pockets of best practice happening across GW4. This is the first time that the GW4 Alliance have come together to collaborate on an Open Research Week of this scale, and we hope that as many people as possible will join us and learn more about Open Research."
Professor Sarah Hainsworth OBE FREng, Pro Vice-Chancellor for Research at the University of Bath, said: "Open Research is one of the five pillars of the University of Bath's Research Culture project, and we are committed to embedding Open Research across all our studies and research outputs. We are delighted to be collaborating with colleagues from across the GW4 Alliance to bring Open Research Week to fruition for 2023, and look forward to welcoming attendees to join us for an exciting programme of activity designed to share innovative approaches to furthering Open Research."
Professor Roger Whitaker, Pro Vice-Chancellor for Research, Innovation and Enterprise at Cardiff University, said: "Research integrity, ethics and Open Research are a critical part of Cardiff University's vision, and the University is committed to ensuring that Cardiff is a leader in these areas. Participating in Open Research Week, alongside our colleagues from the GW4 Alliance, allows us to continue in our mission to ensure that our staff and students can undertake rigorous and credible research to the highest standard. It is great to be able to be able to use this week as an opportunity to showcase the benefits of Open Research to audiences across, and outside of, academia."
Professor Krasimira Tsaneva-Atanasova, Vice-President and Deputy Vice-Chancellor for Research and Impact at the University of Exeter, said: "Open Research allows greater visibility and can stimulate new research opportunities and collaborations. In our University of Exeter Strategy 2030, we are committed to research excellence being underpinned and enhanced by an open, ethical and supportive research culture and environment. We are therefore thrilled to be taking part in the first, joint GW4 Alliance Open Research Week, and to support a diverse programme of activity which will allow the four universities to share benefits of, and approaches to, Open Research across the Alliance and beyond."
Dr Joanna Jenkinson MBE, GW4 Alliance Director, said: "Collaboration, transparency and innovation lie at the heart of the GW4 Alliance, and we are committed to sharing best practice and enabling our institutions to foster, support and practice open research. Open Research Week 2023 is a fantastic opportunity for us to bring together our academic community, alongside colleagues from institutions outside of the GW4 Alliance, as well as interested members of the public, to showcase examples, techniques and resources for achieving best practice in open research."
GW4 Open Research Prize 2023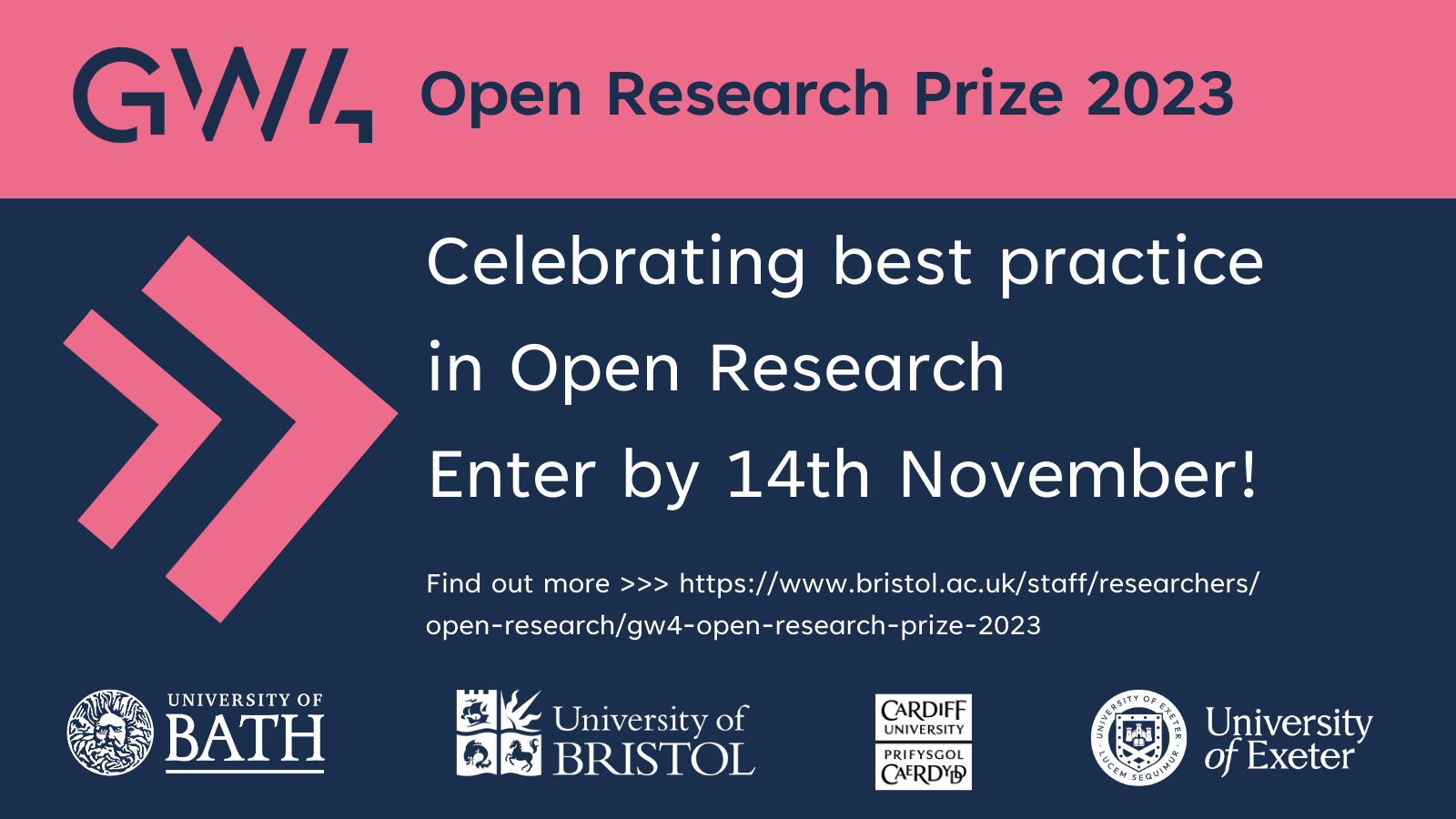 **The deadline for the GW4 Open Research Prize and GW4 Early Career Publishing Prize has been extended to 23:59 on 14th November 2023 – don't miss out on your chance to enter.**
The Prize, being run by the University of Bristol Library Services, in collaboration with GW4 Libraries and the GW4 Alliance, is offering awards of £250 for the entries who can best demonstrate open research practices across one of three prize categories.
Open research is a broad range of practices which, when combined, make research more accessible, transparent, reproducible, and visible.
The GW4 Open Research Prize 2023 is open to submissions from all researchers (including postgraduate research students), in all disciplines, across the GW4 Alliance universities of Bath, Bristol, Cardiff and Exeter. Submissions from postgraduate research students (PGRs) and early career researchers (ECRS) are particularly encouraged.
GW4 Open Research Prize categories
A prize of £250 is available in each of the following four categories:
Widening Reach Prize - Demonstrates the listed open research practices with wider reach potential, including re-use, improving public value and/or innovation.
Improving Quality Prize - Demonstrates the listed open research practices that increase the quality of study design and/or research findings.
Poster session Prize - Provide an A2 digital poster, demonstrates one or more of the listed open research practices.
GW4 Early Career Publishing Prize -  A pilot initiative from the GW4 Alliance, in collaboration with the Bristol University Press (BUP). It seeks to celebrate Early Career Researchers and support the prize winner in exploring publication of the research in their doctoral thesis as a monograph. This prize is aimed at early career researchers who are interested in the benefits of publishing an open access (OA) monograph to widen the accessibility and impact of their research for the global community.
Open Research Prize applications for the Widening Reach and Improving Quality Prize categories will be short-listed by a panel, with representatives from all members of the GW4 Alliance network. Short-listed applicants will then be invited to an online to the event to take questions from the panel and members of the audience.
GW4 Early Career Publishing Prize
In addition to receiving £250, the winner of the Early Career Publishing Prize will have their monograph proposal taken through the full BUP commissioning process (including peer review), with the BUP Editorial Board signing off a monograph which meets BUP's rigorous requirements.  Should the monograph be commissioned the prize will include the publishing fees and commissioned authors will be fully supported through the publishing process.
The monograph would be published as Open Access using a Creative Commons Licence, making it free to access globally to everyone and maximising the potential reach of the research.
How to enter – deadline 14th November
For further information on how to enter the GW4 Open Research and GW4 Early Career Publishing Prizes, please visit the University of Bristol's Open Research Prize webpages – where you will also find detailed eligibility and submission criteria.
Those who have already submitted an entry can submit a revised entry prior to the new deadline, should they wish to.
"Collaboration, transparency and innovation lie at the heart of the GW4 Alliance, and we are committed to sharing best practice and enabling our institutions to foster, support and practice open research.

Open Research Week 2023 is a fantastic opportunity for us to bring together our academic community, alongside colleagues from institutions outside of the GW4 Alliance, as well as interested members of the public, to showcase examples, techniques and resources for achieving best practice in open research."