Back to news
Online events in the COVID-19 era: experience from the GW4 Early Career Symposia scheme 2020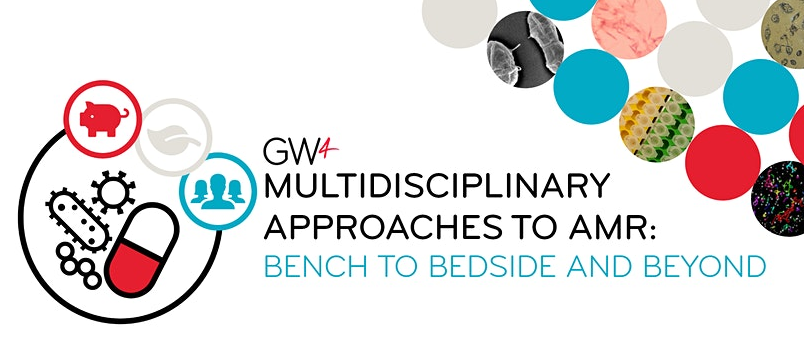 The GW4 Alliance launched an exciting new initiative in 2020, bringing together Postgraduate Researchers (PGRs) and Early Career Researchers (ECRs) to deliver a flagship symposium focused on either Climate or Antimicrobial Resistance (AMR). The purpose of the award was to create a space for postgraduate researchers and early career researchers to showcase their research, develop their management skills, and raise their profile by leading the symposium.
Members of the GW4 AMR Symposium organising committee reflect on the challenges they faced delivering the event during a global pandemic, the skills they learnt and the new collaborations developed along the way. 
If someone had told us (essentially 13 strangers from the GW4 institutions) eight months ago that we would host a successful, week-long online conference, we probably would not have believed them. The GW4 Early Career Symposia organising committee first met in March 2020 over Zoom, just as the first UK national lockdown began. Most people (including us) could not have predicted the scale of the COVID-19 pandemic at that point, but over the next couple of months it became clear that a face-to-face event would be impossible. The decision to move the event online was made in June, just five months before the symposium would take place.
This presented us with a new set of challenges. Most of us had an idea of the planning requirements of a real-life event, having attended several conferences ourselves, but virtual events were uncharted territory. Before the pandemic, online scientific conferences were not commonplace. However, the conference landscape has now changed dramatically, with COVID-19 acting as a catalyst for the development of online platforms capable of hosting hundreds, or even thousands, of attendees. Organising the symposium was a steep learning curve, but with regular communication, division of tasks into different subcommittees, help from a GW4 workshop, and a lot of hard work, we managed to pull it off.
There are certainly a number of benefits to a virtual conference, some of which we experienced first-hand. Without a physical venue, there were no constraints on the number of delegates, and no travel or accommodation costs. Owing to this, we could reach a worldwide audience who were limited only by time zones. This also enabled us to extend the invitation to individuals not only involved in academic research across the GW4 institutions, but also to other research centres, government organisations and industry. Overall, we had 350 registrants from 50 different countries and many different sectors, rendering our symposium a truly multidisciplinary experience.
The online conference was also inexpensive as there were no venue hire or catering costs for us, and no registration fees for delegates. As we chose a video conferencing platform (Zoom Webinar) that one of the GW4 universities had a subscription to, our only expenditures were upgrading our website to include video content and a GW4-sponsored prize for best research image. We were able to secure additional funding from the Microbiology Society journal Access Microbiology for further prizes. Promotion was also free and done primarily via GW4 and institutional channels including mailing lists and Twitter. Our website was an important accompaniment to the live webinar sessions, hosting the posters, flash talk recordings and live session recordings that delegates could visit and interact with at their convenience. Another benefit of the symposium being online was giving attendees the option of dropping into sessions around other commitments.
Excessive screen-time has been a concern during 2020 with the expression 'Zoom fatigue' being used to describe the tiredness, or even burnout, associated with the overuse of virtual platforms for communication.  To combat this, we scheduled the live sessions of our conference over half days and included short sessions with breaks, which hopefully limited the amount of time delegates spent in front of their computers. Aside from the issue of screen-time, the only other major difficulty we experienced was translating the networking aspect of in-person events to a virtual platform. Online, there were no opportunities for chance encounters during refreshment breaks or in the poster hall, and unfortunately delegates did not engage with the discussion forums integrated into our website as much as we had hoped.
Overall, feedback from delegates was overwhelmingly positive and confirmed that the symposium was a success. It was a very valuable experience for us as early career researchers to learn how to organise and run a virtual conference, and we are extremely grateful to GW4 for the opportunity. We acquired new skills in areas we would have not otherwise encountered including website design, branding and promotional material development. In addition, we fostered networks with our peers and other researchers at different career stages without ever meeting them in person. Furthermore, the process made us aware of the other initiatives run by GW4 to support researchers such as the GW4 Crucible scheme and GW4 Generator Award funding.
For the foreseeable future, online events are going to dominate how researchers meet and discuss their work. The COVID-19 pandemic may have been the driving force behind meetings going virtual in 2020, but it has also highlighted the benefits of exploiting online platforms for this purpose. When life eventually returns back to 'normal', people may even welcome a mixture of in-person and online events that fit in better with their work-life schedules, and reduce the cost and environmental impact associated with travel. As time goes by it is also likely that more sophisticated webinar tools will become available that can facilitate networking. It is unlikely, however, that virtual meetings can ever truly recreate the valuable person-to-person interactions that take place during real-life events.
For more information visit the GW4 Multidisciplinary Approaches to AMR: Bench to Bedside website.