GW4 Equity, Diversity and Inclusivity Hub (GW4 EDI Hub)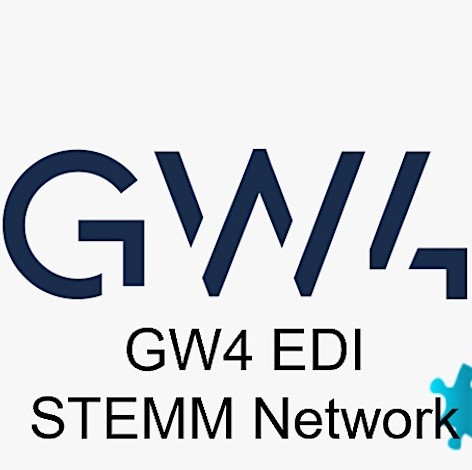 ---
Project overview
This team aim to build a 'community of EDI practice' (EDI – Equity, Diversity and Inclusivity) in STEMM (Science, Technology, Engineering, Maths and Medicine) with the goal of achieving cultural change across the GW4 institutions in this area.
Community lead
University of Bath:  Ana Amelia Alvarez Serra, Sarah Bailey, Alice Hovanessian, Hannah Leese, Despina Moschou, Rajani Naidoo, Chloe Turner
University of Bristol: Bronwen Burton, Josie Briscoe, Amanda Carmichael, Neha Chandarana, Caroline McKinnon, Stephen Montgomery, Amy Mosley, Tom Oliver, Mark van der Kamp, John Wylie
Cardiff University: Cosimo Inserra (PI), Gayathri Eknath, Ian Hall, Riccardo Maddalena, Mihair McVicar, Rebecca Newsome, Wendy Sadler
University of Exeter: Claire Davies, Andrew Griffith, Sawsan Khuri, Vrinda Nayak, Orly Razgour, Andrew Pye, Maisha Reza, MD Sharma
---
Project Summary
To establish this community, the Development Award funds will be used to host a conference on the topic of fostering an inclusive culture by means of a disruptive or challenging approach. The conference will bring together academic and professional service staff, research associates and students, to share insights and expertise that widen the understanding of EDI across departments and institutions. It aims to produce a cultural shift, drawing on the widest range of thinking and best practices, including marginalised voices, new ways of learning, and learning from outside the academic cohort. Working across the GW4 will allow the community to create the first STEMM EDI hub (a community of practice) in the UK, developing coherent methodologies and good practices to support other academic institutions to nurture an inclusive environment. The community highlight short and long term goals to achieve this shift in institutional culture across the GW4 institutions and beyond, including a repeated qualitative survey of institutional practices and standards, collaborating with external bodies to develop training and creating documented recommendations for GW4 STEMM Schools and Departments to refer to.