Celebrating five years of collaborative world-class research across the Great West
October 18, 2019
Over the past five years GW4 has invested over £4.6million in research, training and world class facilities. GW4's total external grant income across our collaborative research communities and doctoral training programmes is over £123million.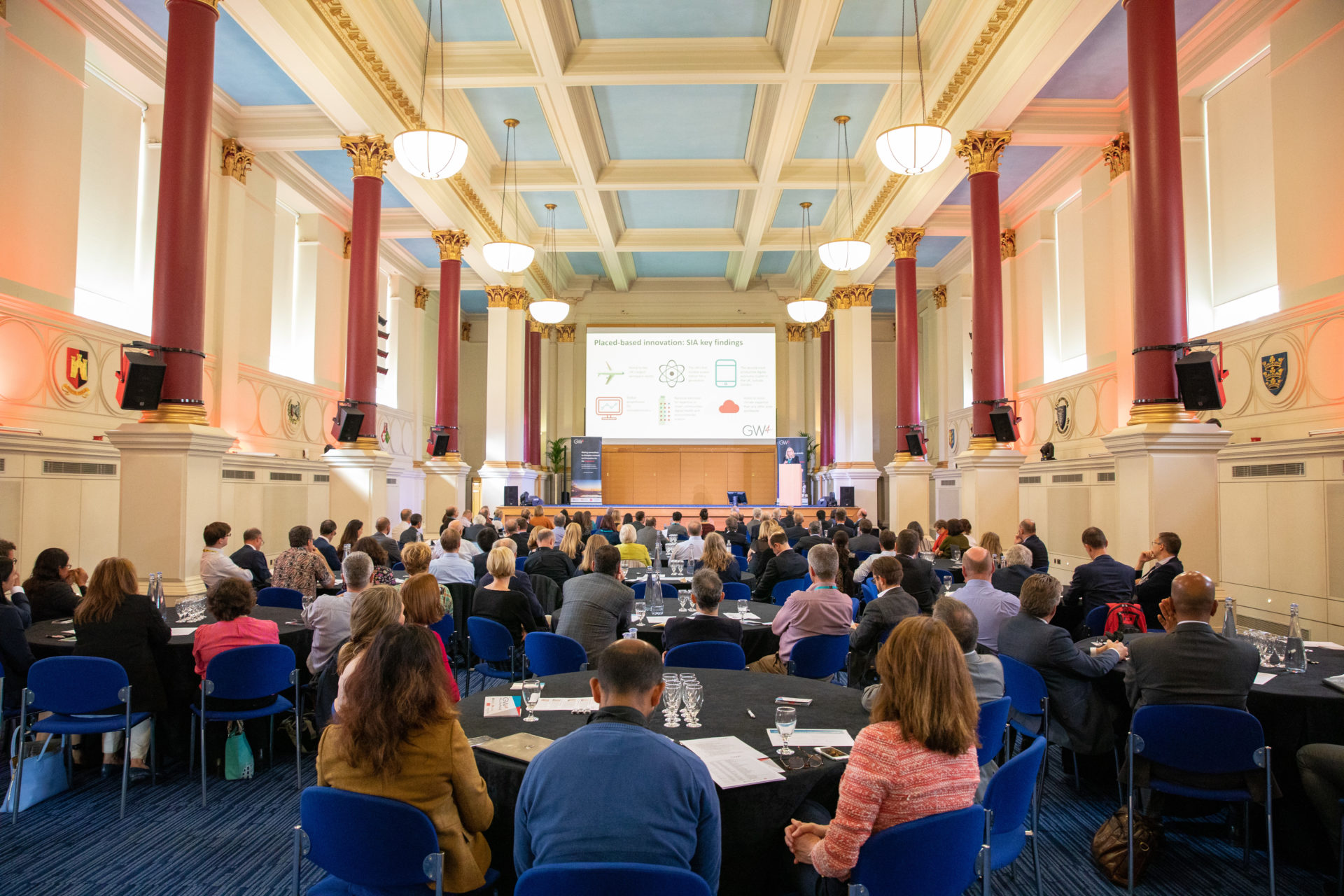 The GW4 Alliance is celebrating five years of championing innovative research, developing talent and securing economic growth across the region.
Over 100 invited leaders from industry, government, funders and academia came together to recognise GW4's collaborative success over the past five years and hear about GW4's future initiatives, at BMA House in London on Thursday 10th October.
Professor Hugh Brady, Vice-Chancellor and President of the University of Bristol and Chair of GW4 Council gave the opening address highlighting the pioneering nature of the alliance and the scale of research we have achieved, which would not be possible in isolation.
Professor Brady said: "GW4 is not just a wonderful success for our region but a shining example of what research-intensive collaboration looks like for the UK and for the world."
Bringing our research to life
Interactive research displays showcased a selection of our research communities, doctoral training programmes, world class facilities and partnerships.
The GW4 Alliance has invested over £2.8m in 87 collaborative research communities, which are addressing major global and industrial challenges and have generated £37m in research income.
Dr Sarah Perkins, GW4 Director said: "GW4 develops research communities at scale, drawing on our complementary expertise across the universities to address major global and industrial challenges, such as the gender pay gap, regional business responses to Brexit, cancer research and mental wellbeing. The research displays provided vivid and interesting examples of the depth and breadth of the alliance and really brought our research to life."
The GW4 Water Security Alliance – the largest water research consortium in the UK – showcased some of their postgraduate student research including guests listening to crayfish conversations.
A short film showed how GW4 Isambard – the first Arm-based supercomputer in the world to go into production use – is being used for a range of scientific research, from improving weather and climate modelling at the Met Office, to next generation healthcare and jet engine simulation.
VSimulators, a national research facility at the universities of Bath and Exeter, which began life as a collaborative GW4 research community was also part of the research displays, after officially opening the Bath facility the day before our anniversary event. 
Our partnership with the NC3Rs was also showcased with Dr Jessica Eddy, Regional Programme Manager for our region sharing the impacts of our collaboration.
Guests heard about our responses to global challenges and our ambitions for the future in areas such as climate and antimicrobial resistance, how we are developing the next generation of researchers and our industry partners from the creative arts to engineering spoke about the benefits of collaborating with GW4.
Professor Tim Lenton, Director of the Global Systems Institute, University of Exeter explained how GW4 researchers have already been instrumental in identifying climate change tipping points. Professor Lenton said it's an enormous challenge but the GW4 region offers a world class concentration of expertise so GW4 and our partners can play a huge role in helping to tackle these vitally important issues.
Professor Ed Feil, Professor of Microbial Evolution, University of Bath spoke about our complementary expertise in the area of AMR and how GW4 can act the 'front door' for the region's AMR research experts on a global stage.
Future Leaders
GW4 is committed to developing the researchers of tomorrow and building a highly skilled workforce, involved in over 30 Doctoral Training Entities. Fiona Joyce, PhD Student, GW4 Fresh CDT shared how GW4 has benefited her research including access to training and links with partners including the GW4 Water Security Alliance and gaining a Welsh government placement.
Soraya Meftah, PhD Student, GW4 BioMed MRC DTP explained why being part of the GW4 Alliance is so special to her – providing a framework for collaborations and benefiting from equipment and training or events at other intuitions, such as the GW4 Early Career Neuroscientist Day.
Dr Des Fitzgerald, Senior Lecturer in Sociology, Cardiff University and GW4 Crucible Alumni took to the stage to share how GW4 Crucible – a programme which provides hands-on training and mentoring to develop collaborative research leaders of the future – was also instrumental in helping to develop his research in a collaborative way and being selected as a New Generation Thinker by the Arts and Humanities Research Council (AHRC).
GW4 also supports Technicians and Research Technical Professionals and all four institutions have signed up to the Technicians Commitment. Dr Anneke Lubben, Head of Material and Chemical Characterisation Facility, University of Bath shared examples of good practice, including our Facilities Manager's Forums and how we can lead the way over the next five years.
Collaboration is at the heart of GW4
Collaboration sits at the heart of GW4. Over the past five years we have collaborated with 425 external partners from SMEs to international organisations, delivering research at scale and creating real-work impact.
GW4 is the only research alliance to cut across England and a devolved administration. Tim Bowles, Regional Mayor, West of England Combined Authority and Rhys Thomas, Chief Operating Officer, Cardiff Capital Region City Deal both spoke about the importance of place, cross-sectoral collaboration and the role of academia, for example in supporting the conception and delivery of the WECA Local Industrial Strategy and providing the evidence base for the Cardiff Capital Region strategic plan.
Professor Guy Orpen, Deputy Vice-Chancellor, University of Bristol and Mark Howard, Head of R&T Business Development and Partnerships UK at Airbus highlighted our regional strengths in advanced engineering and digital innovation.
We showcased how GW4 provides a platform for inward investment including displays from Bristol Digital Futures Institute, The Centre for Resilience in Environment, Water and Waste (a joint venture between the University of Exeter and South West Water) and through the power of a virtual reality headset guests could experience the Institute for Advanced Automotive Propulsion Systems research institute due to open in 2021.
Sara Pepper, Director of Creative Economy, Cardiff University told a tale of four creative cities. Building on a history of creative collaboration our region's creative industries are going from strength to strength, receiving two Creative Clusters awards for Cardiff and Bath/Bristol plus the Audiences of the Future programme led by the University of Exeter, which aims to reimagine the museum visitor experience using storytelling and cutting-edge virtual technology.
Dr Wyn Meredith, Director, Compound Semiconductor Centre wrapped up our partnerships section with another great example of universities and industry working together, this time for the GW4 region to become home to the world's first Compound Semiconductor cluster.
Professor Kim Graham, Pro Vice-Chancellor, Research, Innovation and Enterprise and Chair of GW4 Board said: "I am immensely proud of what GW4 has achieved over the past five years – it demonstrates our collaboration, commitment and willingness to work together to deliver something really special for the region. I look forward to building on this success and working at a greater scale to ensure GW4 continues to be at the heart of transformational and positive societal change in the UK and internationally."