Climate Assembly report 'a clear mandate to policy-makers for bold action'
September 10, 2020
GW4 academics led parts of the climate assembly and presented research to ensure the balance and accuracy of the discussions.
(Image below: Professor Lorraine Whitmarsh, CAST Director and one of the expert leads for the Climate Assembly. Credit: Cardiff University).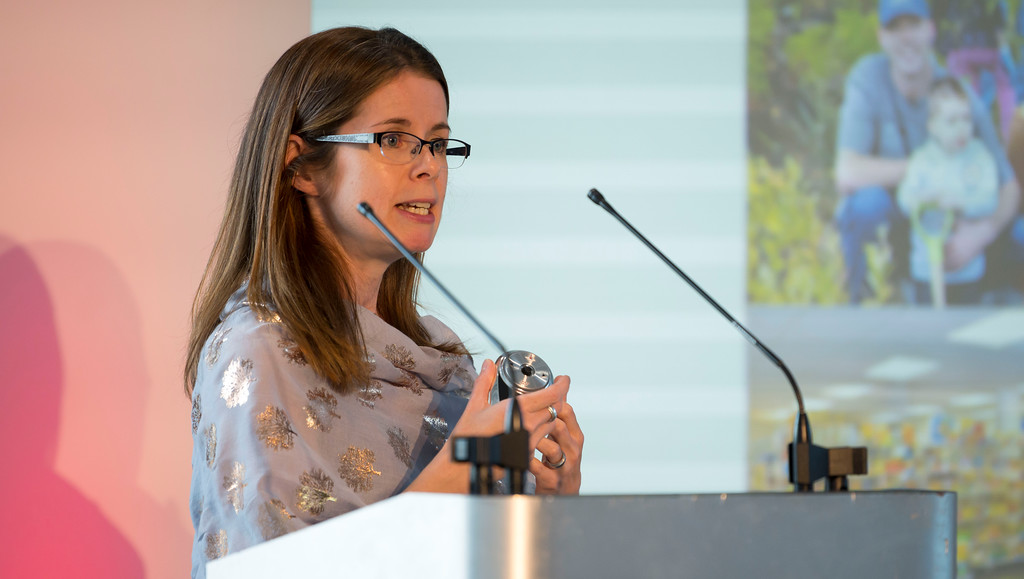 The first UK-wide citizens' assembly on climate change, Climate Assembly UK, has published its final report, setting out a clear, consistent, and timely path for how the UK can reach its legally binding target of net zero emissions by 2050.
Professor, Lorraine Whitmarsh, Director of the Centre for Climate Change and Social Transformations (CAST), from the University of Bath's Department of Psychology was one of four lead experts who supported the assembly's design and delivery.
Professor Dale Southerton and Dr Jo House from the University of Bristol's Cabot Institute for the Environment were also part of the academic panel of researchers. Members of the panel specialised in different approaches to tackling climate change and ensured assembly briefings were balanced, accurate and comprehensive.
The Climate Assembly was commissioned by MPs from across the political spectrum, to understand public preferences on how the UK should tackle climate change because of the impact these decisions will have on people's lives.
The assembly members met over six weekends in Spring 2020 and have produced their final report, The path to net zero, issuing strong calls to Parliament and the Government to rise to the challenge of achieving the net zero target in a clear, accountable way.
Professor, Lorraine Whitmarsh explained: "This report gives a clear mandate to policy-makers for bold action to tackle climate change. For the first time, we have a much clearer idea of what is important to the public when it comes to reaching net zero and this includes the importance of public education, fairness for the most vulnerable, government leadership, protecting the natural world, urgent and long-term action, and community engagement."
Professor Whitmarsh led on two topics at the Assembly related to food, farming and land use, and what we buy.
The Centre for Climate Change and Social Transformations (CAST) is a global hub for understanding the systemic and society-wide transformations that are required to address climate change. Funded by the Economics and Social Research Council (ESRC), CAST consists of a group of universities and climate organisations led by and based at Cardiff University.
GW4 Director, Dr Sarah Perkins commented: "It's fantastic to see GW4 institutions represented as part of the Climate Assembly. GW4 researchers have already been instrumental in identifying climate change tipping points so it is fitting that they played a part in shaping the Assembly and provide expert knowledge to help tackle climate change.
"The GW4 Alliance is uniquely placed to address the global challenge of climate change, due to both our regional ecosystem and the complementary critical mass of expertise across the GW4 institutions. Our GW4 region has more climate expertise than any other area worldwide and all four universities have declared a climate emergency."
In the statement opening the report, Assembly members said it is 'imperative that there is strong and clear leadership from Government' that should 'forge a cross-party consensus that allows for certainty, long-term planning and a phased transition'.
Chair of the Business, Energy and Industrial Strategy Select Committee, and MP for Bristol North West, Darren Jones, said: "This is an extremely important contribution to the debate on how the UK reaches our net zero target and I hope it gives impetus to policy makers to take bold action to reduce our emissions. The range of voices within these pages reflect our population. The fact that assembly members have been able to arrive at clear recommendations whilst respecting each others' values and experiences sets an example for us all. Participants speak of their learning, how they clarified their views and their respect for each other's perspectives, even when they didn't agree. Their voices are front and centre, just as they should be.
"It is vital that Parliament and Government examine and use the recommendations which the Assembly sets out today. Assembly members agree that the task of reaching net zero is a responsibility shared by all generations and we thank them for doing just that, giving up their time to listen, understand, debate and propose solutions which are underpinned by a desire to be fair to everyone in our society, and to retain freedom and choice for individuals and local areas wherever possible."
In response to calls for strong government leadership and cross-party cooperation, the Chairs of the six commissioning Select Committees have written a letter to the Prime Minister, urging him to ensure that the Government acts on the recommendations of Climate Assembly UK by 'showing leadership at the very highest level of government' ahead of the UK hosting COP26 in November 2021. They have also written to the leaders of the other parties represented at Westminster, highlighting the role opposition party leaders have to play in delivering cross-party consensus on reaching net zero.
The work of Climate Assembly UK is designed to strengthen and support the UK's parliamentary democracy by ensuring politicians and policy makers have the best possible evidence available to them about public preferences on reaching the net zero target. Parliament will use the report to support its work on scrutinising the Government's climate change policy and progress on the target.