Collaborative research excellence was in the spotlight at the GW4 Building Communities Generator Award Showcase.
The inaugural online event provided a platform for award holders established through the first round of the GW4 Generator Award to present their communities to one another.
Delegates had the opportunity to share their experiences as awardees, and how they pivoted their proposals into online communities as the awards were made during the Covid-19 pandemic. They discussed their individual successes and challenges as well as their key piece of advice for other research communities.
The Generator Award offers research communities across the four universities of Bath, Bristol, Cardiff and Exeter up to £20K, to support both the creation of new GW4 communities and the development of the strongest ideas emerging from our existing communities. The hope is that communities use the Generator Fund as a step towards applying for external funding.
During the event, held on Wednesday 22nd September, all awardees spoke about the benefits of interdisciplinary research efforts in helping to develop new and innovative ideas. They also stressed the importance of being flexible and adapting to new, and unexpected, opportunities which may arise.
The award holders who attended were:
Dr Elspeth Van Veeren (University of Bristol): SPIN (Secrecy, Power, and Ignorance research Network)
Nurtured a partnership with Bristol's science centre We The Curious; SPIN developed a new set of activities – themed boxes on secrecy and ignorance – for school-age children and their parents to work through, to gather data on the understanding of these concepts and to learn how to better communicate with those audiences.
Dr Joanna Clifton-Sprigg (University of Bath): Maternity Leave in the UK – A Gender Gap Closing Policy
Explored the research capacity within GW4, bringing academics together from across disciplines and institutions to explore issues surrounding maternity leave provision in the UK, and how this shapes careers in the context of the gender pay gap.
Dr Richard Pulsford (University of Exeter): Moving though Motherhood
Developed interdisciplinary collaborations to address previous research highlighting the impact of low physical activity during and after pregnancy, and the barriers to this. Bringing together expertise in research, clinical practice, health policy and provision, and the public to steer research and resource development. This research community started from GW4 Crucible 2017 seed funding.
Professor Paul Howard-Jones (University of Bristol): Transdisciplinary Network for Climate Change Education
Established a transdisciplinary climate change education research network involving researchers and more than 300 teaching practitioners; a focus on talking to the users of the research (teachers) at scale to address the big questions in Climate Change Education together.
Dr Asel Sartbaeva (University of Bath): GWPore: Porous materials for energy, healthcare and the environment
Created a diverse network of researchers, GWPore, interested in all aspects of porous materials to facilitate collaborations, networking and applications for funding.
Dr Veronica Grieneisen (Cardiff University): Plasticity and Robustness: cellular understanding of plant growth and defence
An interdisciplinary community which explored how cell polarity is involved in plant growth and defence mechanisms; have developed computational models which can be used to test new hypotheses and experiments.
Dr Punit Shah (University of Bath): GW4 Neurodevelopmental Neurodiversity Network
An interdisciplinary group of university academics, neurodivergent people and third sector organisations who have worked together towards a step-change in understanding and improving the lives of neurodivergent people.
Dr Joanna Jenkinson MBE, GW4 Director, said: "The growth and success of the GW4 Generator Award Funding was clearly exemplified by this showcase event. It was fantastic to see such a breadth of research which could only be achieved through collaborative efforts across our institutions.
"I was also highly impressed to hear how many had been driven by ECRs, as it shows interdisciplinary research is being embraced by researchers at all stages of their career."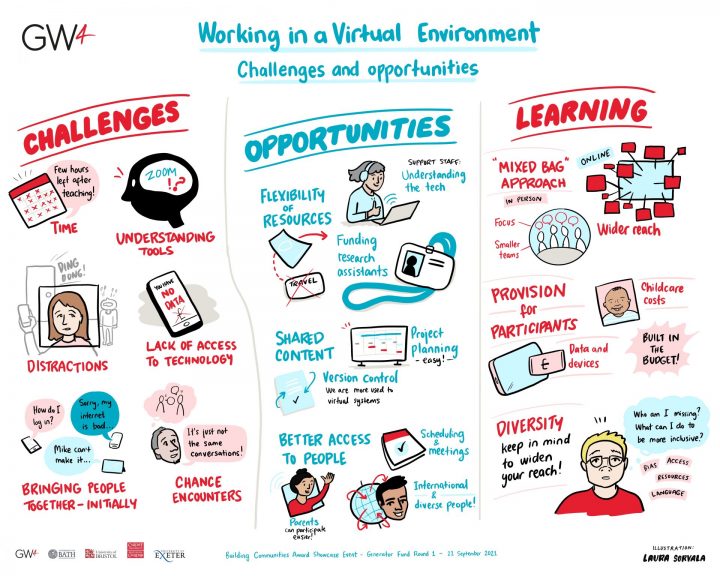 Delegates also took part in virtual breakout group sessions to talk through the opportunities and challenges of building a community in a virtual environment, before hearing about further collaboration opportunities with GW4. This was followed by a session with Research Development Managers across GW4 to discuss future development pathways.
To date, GW4 has invested over £3.1m in 112 collaborative research communities, which have generated nearly £50m in research income. This means that for every £1 GW4 spends on collaborative research communities, GW4 captures over £16 in external research awards.
The next GW4 Generator Award Funding call will open on 30th November.