GW4, THE MET OFFICE, AND CRAY POWER UP THE LARGEST ARM-BASED SUPERCOMPUTER IN EUROPE
November 12, 2018
Isambard supercomputer to be used for scientific research and building the next generation of computing technology in the exascale era.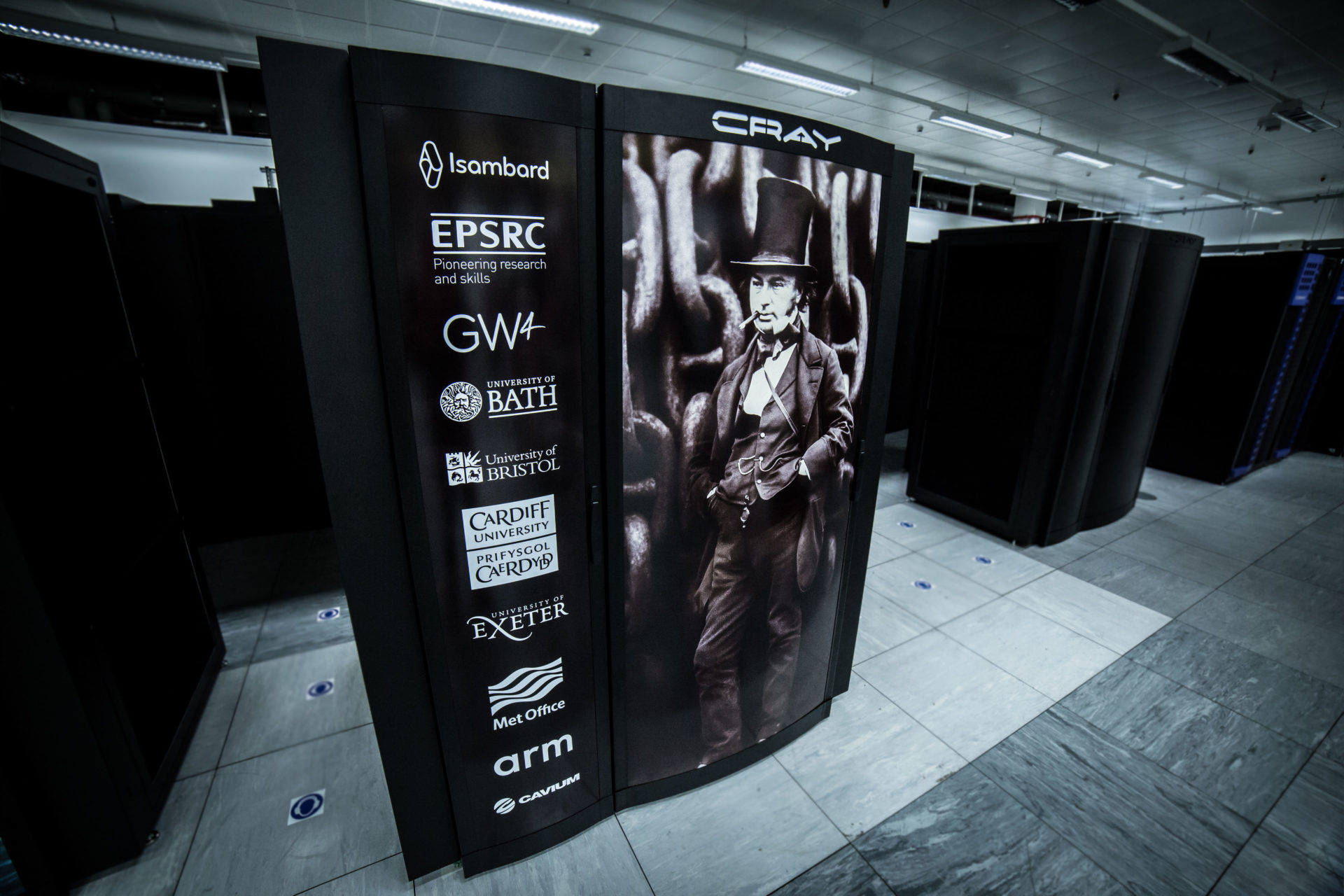 The GW4 Alliance, together with the Met Office and global supercomputer leader Cray Inc. have announced that the Arm®-based supercomputer in Europe, named "Isambard," is now live in the United Kingdom. It is the largest Arm-based system in the world outside of the U.S. and one of the first systems of its kind to be used for scientific research as well as to explore future computer architectures in the exascale era. Isambard is a Cray XC50 system with Marvell ThunderX2™ processors based on the 64-bit ARMv8-A architecture and was designed by the GW4 Alliance in partnership with Cray and the Met Office.
Isambard, named after famous 19th-century British engineer Isambard Kingdom Brunel, will be part of the EPSRC-funded Tier-2 High-Performance Computing ecosystem in the UK. It will be used  by EPSRC-funded researchers as well as various labs within the GW4 Alliance – a coalition of four leading, research-intensive universities in the UK: Bath, Bristol, Cardiff and Exeter.
"The Isambard project was first conceived in early 2016 and we're delighted to be nearing the production phase of our journey towards real Arm-based supercomputing" said Professor Simon McIntosh-Smith, the principal investigator for the Isambard project and a professor of high- performance computing at the University of Bristol. "Isambard represents the first of what we expect will become a growing number of production supercomputers that will exploit Arm-based processors. These will deliver significant benefits in terms of price/performance and faster product innovation thanks to increased competition in the market."
The GW4 Alliance and the Met Office partnered with Cray to design Isambard because of the flexibility the Cray XC50 system offers when integrated with Arm processors.
Professor Kim Graham, Chair of GW4 Board and Pro Vice-Chancellor for Research, Innovation and Enterprise at Cardiff University said: "We are proud to be part of this exciting project and collaboration with Cray and the Met Office. Isambard exemplifies our region's expertise in advanced engineering and digital innovation. We look forward to seeing the results of Isambard in action and hope it will provide the blueprint for a new era of supercomputing worldwide."
"The Cray XC50 system was purpose-built for running today's most challenging supercomputing, data analytics and AI workloads requiring sustained multi-petaflop performance," said Steve Scott, CTO at Cray. "This flexible Arm-based production supercomputer provides researchers a full software environment, Arm-optimized compilers, libraries, tools and the computational performance they need to successfully get the job done."
"With production deployments of Arm-based systems in key HPC environments now underway, Arm is proud to work with the GW4 Alliance to support its Isambard users at all stages of application development and testing," said Brent Gorda, senior director of HPC, Infrastructure Line of Business, Arm. "Our ongoing collaboration has further expanded the Arm HPC software ecosystem, shown great performance results for prevalent HPC applications, and helped enable a larger variety of architecture options for the HPC community."
"The Met Office is proud of being both the host for Isambard, and a fully contributing member of the project," said Paul Selwood, Principal Fellow in Supercomputing at the Met Office. "We are really excited to see competitive early performance on the Met Office's key weather forecast and climate prediction codes and look forward to improving this further as we gain more experience with the system."