Back to news
GW4's Living Labs for Net Zero report paves the way for a greener future in South West England and South Wales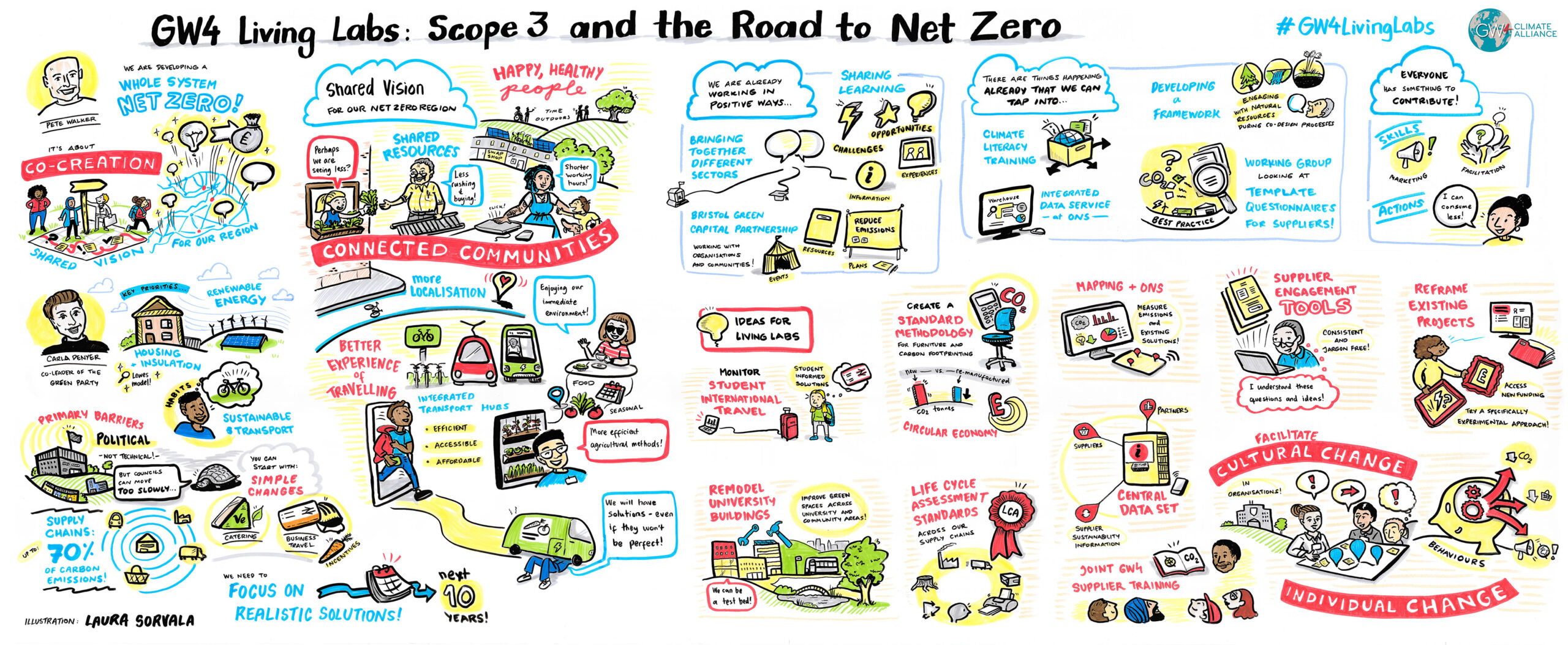 The GW4 Alliance (Bath, Bristol, Cardiff and Exeter universities), alongside stakeholders in South West England and South Wales, have published a report identifying eight priority areas, ranging from energy to education, where strong regional collaboration could have a significant impact on achieving sustainable Net Zero.  
The report recommends taking a "Living Labs" approach, involving all relevant stakeholders, including end users, in the process of solving sustainability problems. Living Labs work iteratively through exploration, experimentation and evaluation, to develop and test solutions that are fit for the communities they work with.  
Local authorities, public bodies, companies and community organisations in South West England and South Wales, together with the GW4 universities, are committed to achieving ambitious Net Zero targets in response to the climate crisis. Our region is vulnerable to the effects of climate change, such as flooding, heat stress, biodiversity loss and coastal erosion. The creation of the Living Labs directly aligns with the GW4 strategic priority of accelerating to an equitable transition to Net Zero. 
The GW4 Alliance established the GW4 "Living Labs for Net Zero" network in July 2022. The network workshop held earlier this year developed priorities and roadmaps for tackling Scope 3 emissions, which includes procurement and travel. Carla Denyer, Bristol City Councillor and co-leader of the Green Party, delivered the keynote speech at the event. Dr Joanna Jenkinson MBE, GW4 Alliance Director, said "We are thrilled to unveil the report and launch the Living Labs with the full support of GW4. After months of preparation, it is truly inspiring to witness the collective efforts of stakeholders from South West England and South Wales coming together for a sustainable Net Zero future. By working collaboratively, we have the power to achieve these goals and pave the way for a better and greener region." 
The report from this workshop is available to download on the GW4 website. In total, the workshop has defined 8 unique Living Labs to contribute towards Net Zero targets and identified existing projects in the region as well as new opportunities for the GW4 Alliance and partners in these areas. These are:  
Circular Economy
A circular economy aims to benefit businesses, the environment, and society by eliminating waste, promoting circulation, and regenerating nature. The transition to a circular economy should be just, fostering meaningful jobs, sustainable growth, and prioritising biodiversity and equality for future generations. 
Data & Digital
The proposed Living Lab on Data & Digital in the transition to Net Zero focuses on ensuring the availability and accessibility of data and digital tools for policymakers and decision-makers, acting as a central project that incorporates inputs from other Living Labs. It highlights the importance of data and digital technologies in driving the green transition. 
Education and Skills 
It is imperative to provide education and training, including upskilling and mid-career development, to equip individuals with the knowledge and skills needed for the green transition. Education is needed at all levels – within schools, higher education, and the workplace – to move from disengagement to action.  
Energy
The goal is for energy firms to actively engage with customers, helping them make informed energy choices and facilitating practical energy use through renewable sources, electric vehicles, sustainable heating options, and energy-efficient homes. Although energy falls outside Scope 3 emissions, workshop participants recognised its significance due to its interconnections with transportation, community engagement, behaviour change, and a just transition to Net Zero. 
Food & Farming
Sourcing locally produced food has multiple benefits, including reducing energy use and CO2 emissions, improving food security, health and wellbeing, and boosting economic development. This Living Lab aims to foster understanding and collaboration within bioregional food systems, promoting efficient agriculture, rich biodiversity, increased access to locally grown foods, seasonal diets, and a higher demand for plant-based options. 
Nature-Based Solutions and the Environment 
This Living Lab recognises the need to transform our relationship with nature, and highlights green and blue spaces as vital to human health and wellbeing. The aim is to ensure access for all to biodiverse natural areas, such as community gardens, outdoor workspaces, nature reserves, and national parks, fostering a stronger connection with nature and wildlife while enhancing ecosystem protection and natural resilience to climate change. 
Procurement 
The consumption of goods and services constitutes the largest portion of carbon emissions for most local authorities, universities and organisations. The goal is to engage with supply chains early on, as procurement teams collaborate across the region to support companies, including SMEs, in measuring and reporting their carbon emissions. 
Travel
Travel for business contributes significantly to Scope 3 carbon emissions for universities and most large organisations. This Living Lab aims to build systems that prioritise active travel and make local and regional travel more affordable and efficient, through better bus and rail links between suburban and rural areas and cities, accessible electric vehicle options, and connected cycle ways and pedestrianised areas.  
The report expands on the above Living Labs with further details on the proposed projects, stakeholder engagement within each lab, and next steps. With these Living Labs driving innovation, collaboration, and practical solutions, the GW4 Alliance is taking actionable steps towards a sustainable Net Zero transformation in line with the GW4 strategic vision. Those interested in joining the Living Labs are invited to contact the GW4 Sustainable Net Zero team on NetZero@GW4.ac.uk.