SETsquared celebrate 20 years with impact report highlighting £15.7bn contribution to the UK economy
December 8, 2022
SETsquared is an enterprise partnership between six research-intensive universities, including GW4's four initiations of Bath, Bristol, Cardiff and Exeter, plus Southampton and Surrey.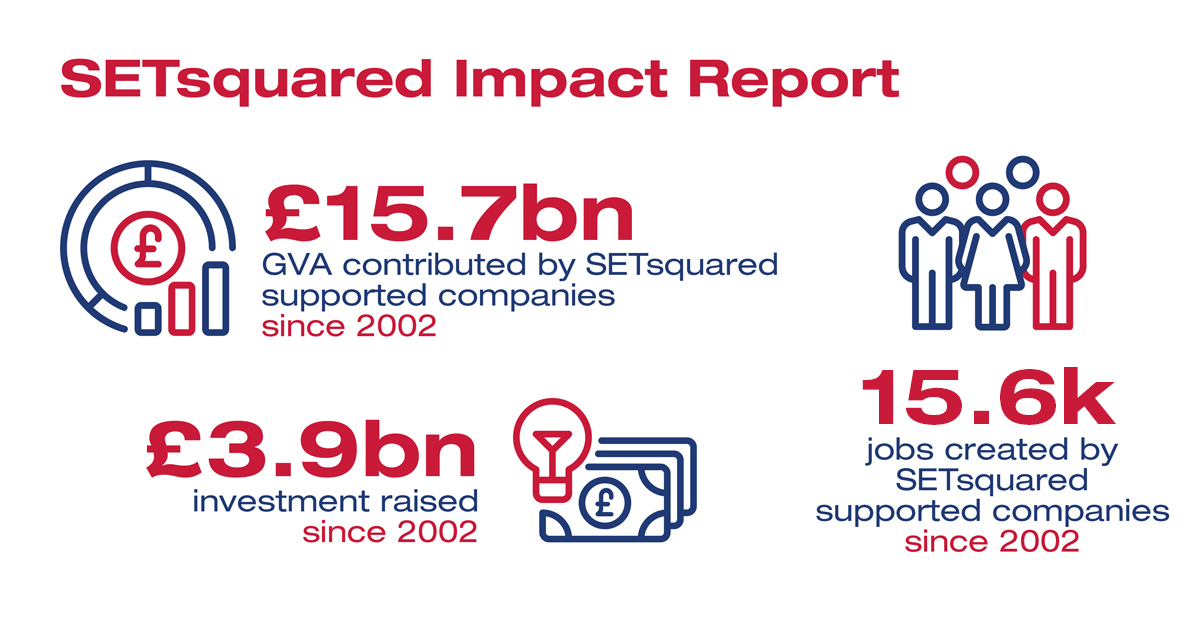 A new independent report published this month by Warwick Economics and Development estimates that companies supported by the SETsquared Partnership ecosystem have contributed £15.7bn to the UK economy over the last 20 years and created 15,600 jobs.
Key findings of the report:
It estimates that, between 2002 and 2022, the total GVA contribution of businesses supported by SETsquared is £15.7bn.
The level of employment generated by the supported businesses will be 15,600 full-time equivalent jobs by the end of 2022.
It estimates that in 2022 there are 1,417 operational businesses that have been supported by the SETsquared, an increase of almost 50% over the last 5 years.
Businesses that are members of SETsquared have raised £3.9bn of private and public investment over the last 20 years, with 70% of this investment being in the last 5 years.
The report coincides with SETsquared celebrating its 20th anniversary with a special edition of its annual investment showcase and awards night. Over 200 investors and funders attended the event in Westminster, to see the latest top entrepreneurial and tech talent, from across SETsquared, pitch for investments to take their innovations to the next level.
Six businesses which are currently supported or have been supported by SETsquared received Impact Awards in recognition of their positive effect on the environment, economy, and society. These included four businesses from GW4 universities: The Washing Machine Project from Bath, UltraLeap from Bristol, and Binit and Ecomar from Exeter.
GW4 Alliance Director, Dr Joanna Jenkinson MBE, said: "This Impact Report demonstrates the value of universities as drivers of innovation, business creation and economic growth and the importance of supporting academic collaboration, research and innovation. In addition to the economic benefits these businesses bring our region and the UK, they are also helping to tackle some of the major global challenges we face, from achieving sustainable net zero to advancing virtual reality technology to improve road safety and develop healthcare treatments.
"It is fantastic to see some GW4 university originated businesses recognised with Impact Awards and I would like to take this opportunity to wish SETsquared a happy 20th anniversary and celebrate their achievements to date."
Ranked as the Global No. 1 Business Incubator, SETsquared provides a range of support programmes which help student and researcher enterprises, start-ups, spin-outs and scale-ups to develop, grow and attract investment and funding.