Can Cardiff deliver on its creative promise?
April 2, 2019
The GW4 region has a thriving creative industries sector, as evidenced by securing funding from the Arts and Humanities Research Council (AHRC) for two Creative Clusters – Clwstwr and Bristol + Bath Creative R&D.
In the first of our Creative Cluster Opinion pieces, Professor Justin Lewis, Director of Clwstwr and Professor of Communication at Cardiff School of Journalism, Media and Cultural Studies, explains how Clwstwr is the key to a more prosperous future, but only if the industry in Wales can become a home for innovation.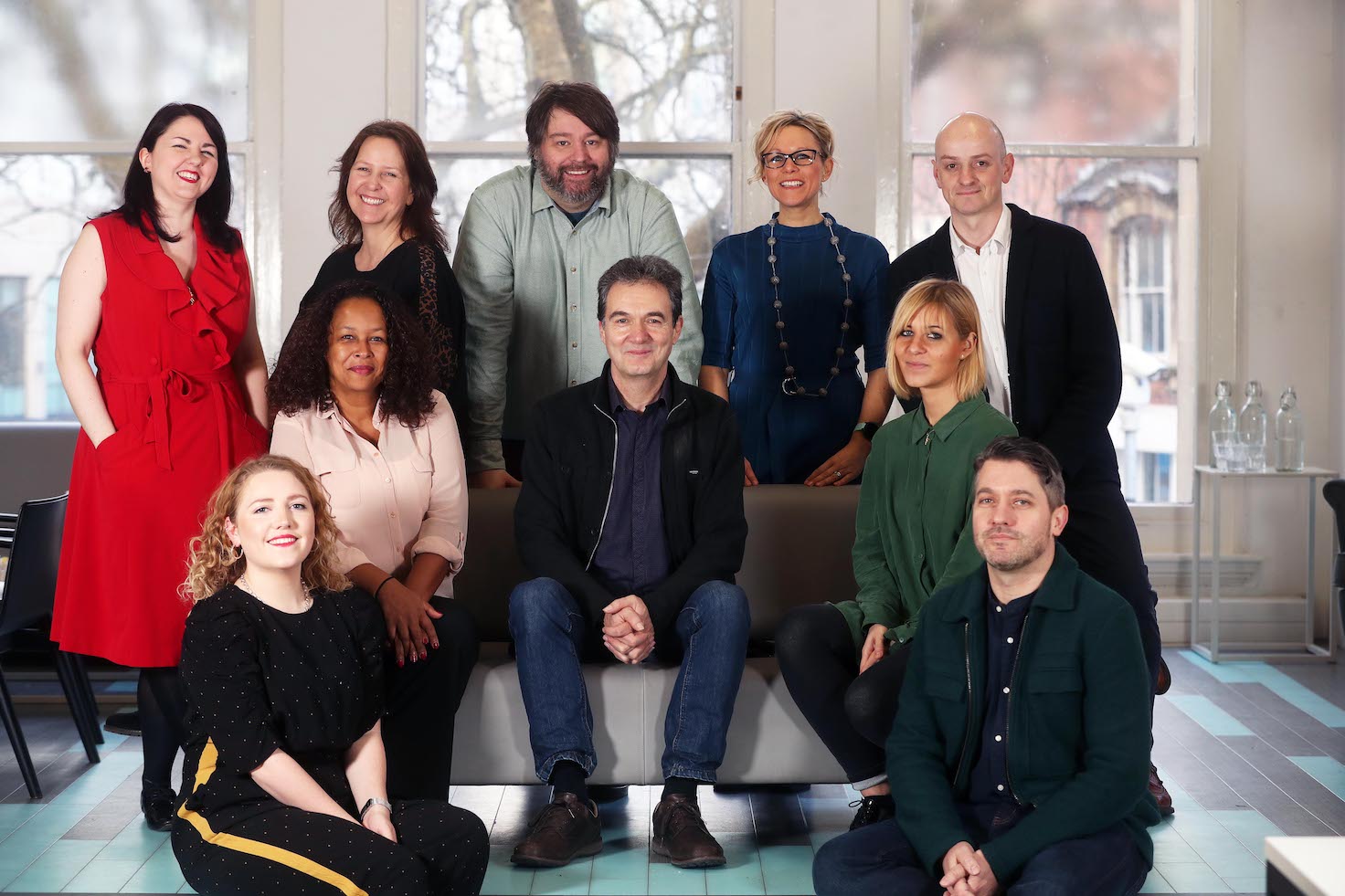 Clwstwr (team pictured above) is led by Cardiff University in partnership with University of South Wales and Cardiff Metropolitan University. It brings together all the major Welsh broadcasters with independent film and television production companies, Wales's national companies and creative organisations, creative coworking spaces, tech startups, strategic agencies, local authorities and Welsh Government.
It is one of nine Creative Industries clusters funded by the Arts and Humanities Research Council (AHRC) as part of the UK government's Industrial Strategy (the other clusters are based in Bristol, Belfast, Dundee, Edinburgh, London (x2) Leeds and York). Cardiff University is also part of the Creative Industries Policy and Evidence Centre (PEC), a UK-wide initiative working alongside the clusters. We will be working with all the other clusters, but especially closely with our neighbours in Bristol/Bath.
Clwstwr's main focus is to build on the recent success of the Welsh screen sector, developing an R&D system that will embed and deepen a culture of innovation, so that we can sustain and grow media production and move the sector in South Wales from strength to leadership.
Why Clwstwr?
Over the last decade the screen industries in South Wales have grown prodigiously – the result of a potent mix of strategic investment, training and native talent. Cardiff is now the most important city for UK screen production outside London. This has been a cultural catalyst, fuelling the imagination and ambition of the Welsh creative industries.
But this success is fragile. Digital disruption has been – and will continue to be – a constant challenge. And the creative ecology in South Wales is fragmented. It depends upon a range of independent companies – most of whom are SMEs or micro-businesses – and thriving networks of freelancers. In an industry where the global landscape is dominated by some very big beasts, this creates a degree of vulnerability.
Large, integrated, global corporations with significant R&D budgets can dominate a sector (like Facebook or Google) or (like Disney or Fox) use cross-media ownership to weave profitable synergies. How does a cluster of independents, SMEs and freelancers – located well outside London and the South East – survive and thrive in this unforgiving world?
Clwstwr is designed to answer that question. It aims to recreate some of the advantages enjoyed by the global big hitters – investment in innovation and R&D, collaborative synergies and profitable partnerships – while capitalising on the agility, spark and entrepreneurial energy of smaller or independent companies.
Clwstwr is an opportunity to create a new economic model – one where small is not only beautiful but the heart of innovation and success. For South Wales – and for the many other regions who have used creativity to reverse a history of industrial decline – this matters. It is the key to a more prosperous future. Clwstwr is a chance to for Wales to fulfil its promise as a clever little country.
What Clwstwr will do
With our partners we are designing an R&D programme, with two leading points of focus: Screen Innovation and News Innovation. These programmes are aimed at creative businesses and freelancers, and are designed to develop new products, services and experiences. This will include direct investment in specific R&D projects of £3m over a four-year period, in order to address some key challenges.
So, for example, while an increasing volume of film and television is produced in South Wales, the cluster is less successful at retaining intellectual property (IP), developing new forms of content and addressing new and/or international markets. If the Cardiff-centred screen sector is to move beyond 'show and go' production, it needs to become a home for innovation not only in creative production, but in business-critical applied digital technologies, systems and business models.
Similarly, the news sector has been badly hit by the digital disruption of business models – people increasingly expect to get news without paying for it. At the same time many millennials are turning away from traditional news outlets and towards the uneven, patchy and unreliable world of social media. We need to innovate to find new ways to persuade audiences to engage with reliable, well-crafted news through new platforms, technologies and new forms of storytelling.
Clwstwr has recruited its team who will be in place in February. We will be rolling out details of our R&D programmes in March and April in a series of engagement events across South Wales, with a view to a first funding round in late Spring.
Our aim is to bring innovation and R&D to the fore of media production in the screen cluster to deliver economic uplift for South Wales. But it is also to foster a much deeper understanding of how R&D can work in the creative industries – a key growth sector in the UK economy where R&D is poorly understood.
Find out more about Clwstwr.