GW4 Crucible Alumni Network: Inaugural event
June 29, 2021
The first event of our GW4 Crucible Alumni Network, entitled 'Leading our future, together' was held on Thursday 24th June.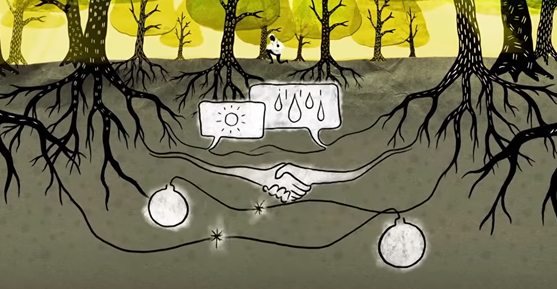 (Image source: "How trees secretly talk to each other", BBC News)
The GW4 Crucible programme supports future research leaders across our GW4 universities, providing opportunities to work with other researchers across disciplines, develop their leadership skills and career ambitions, and identify potential areas of collaborative research as part of our seed funding scheme.
The virtual event brought together participants from each of the five GW4 Crucible cohorts (since it began in 2017). Cruciblees were welcomed by GW4 Director Dr Jo Jenkinson MBE, with hands-on workshop activities delivered by GW4 Crucible Programme Director Kate Tapper, and fellow leadership coach Gary Reed.
Following on neatly from this year's 'Transitions to Net Zero' Crucible topic, trees provided a central theme for the event. Cruciblees reflected on the metaphor of trees communicating with each other in a forest, comparing this to their own research networks.
Gary also presented a 'Leadership Tree' model, challenging participants to reflect on their leadership strengths and weaknesses in a paired discussion, before finishing up with an individual action-focused goal setting activity.
Planning is underway for the GW4 Crucible 2022 programme, and applications are expected to open via our website in the Autumn. In the meantime you can find out more about the GW4 Crucible programme, or get in touch with the GW4 Talent and Skills team if you have any questions.